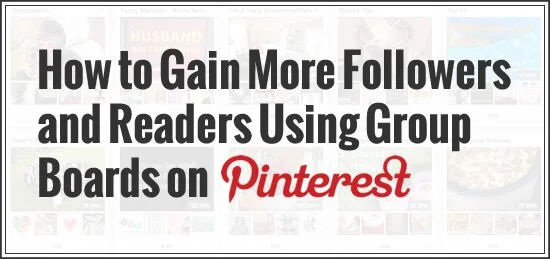 According to a study released by Semiocast, a Paris-based social media research firm, Pinterest has reached 70 million registered users.  In one month alone (June 2013), over 20 million of these users pinned, repinned or liked a pin. This is quite a large audience that bloggers need to make sure they are reaching! Pinterest can be an amazing source of traffic and engagement for bloggers. If you don't already have a Pinterest account for your blog, you need to start one now!
Exposure to a new audience
Assuming you already have a Pinterest account and are active on the site, you are probably looking for ways to grow your followers and reach new readers. One of the best ways I have found to gain new followers is to become a helpful pinner (more on what I mean by 'helpful' later) on a group board. Pinning to group boards allows you to "borrow" another pinner's audience to share content. This means that you are now reaching people that have probably never been exposed to your blog in the past. If they find your pins interesting, they will repin them. They may also come check you out and possibly follow one or all of your boards.
How to find group boards to join
Depending on the type of group board you are looking for, this can either be really easy, or really hard. First of all, you need to recognize what a group board looks like. As you can see in the picture below, a group board will have a little symbol indicating this status.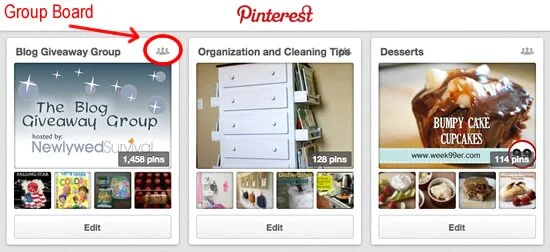 The first (and best) place to find group boards is to check out the boards of people you are already following. Scroll through their list of boards until you find one with the group board symbol. If it is a topic you are interested in, open it and proceed to the next section where I explain how to get invited to pin to a group board.
The second (more difficult) way to find group boards is by using the Pinterest search feature. If you have ever used the search feature, you know it isn't that great. However, if you give a really specific search it can be helpful. For example, say you want to pin to a group board for recipes; if you type in "recipes" and then click on the "boards" tab, it will give you a list of boards called "recipes." There will be a TON of these boards and it may take awhile to find one that is a group board. However, if you type in "poultry recipes," it may be a bit easier… even easier would be something like "holiday poultry recipes."
How to get invited to join a group board
This will vary from board to board. Once you locate a board you want to join, read the description of the board. Sometimes the board owner will indicate how you can become a contributor to the board. The board owner will usually
Give an email address and ask you to send a request.
Ask you to comment on any pin for an invite.
Pin a generic "add me" pin to the board and ask you to comment on that pin to get an invite.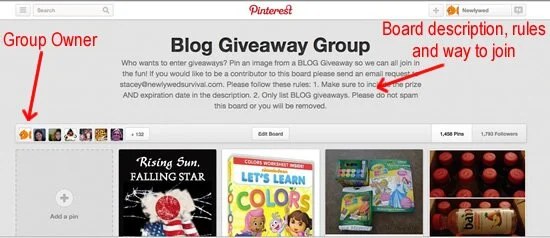 If you don't see anything in the description of the board, click on the avatar for the board owner to go to their page. The board owner will be the left-most avatar in the list of pinners (shown above). Once you are on their page you should read their page description to see if they have indicated how to join their group boards. Nothing there? Then look for a board that is named something like "Pin to my boards" or "Request board invite." When you open that board there will be directions of what you need to do. Still nothing? See if you have a friend that contributes to the board and ask them to invite you. If you have exhausted these possibilities, then you may be out of luck—the board owner is probably only inviting people they know, or has closed their board to new contributors. Move on to another board.
Being a 'helpful' group board pinner
Once you have been invited to pin to a group board, you will need to make sure that you are being a helpful pinner. First and foremost, follow the board rules! If there are any rules for the board, they will be located in the description of the board. Usually they are things like "don't pin more than 10 pins per day" or "make sure that all pins lead to the original source of the image." Follow the rules or risk being banned from the group.
As with your regular Pinterest boards, you want to make sure that you are adding value to a group board. You can do this by only pinning images that link to posts you find really interesting, useful, or fun. If you aren't interested in the pin, then you can bet that majority of the people you would like to follow you are not going to find it interesting. This means that if you are repinning, you need to make sure you click through to the site, read the post and make sure you find it relevant. No repinning just because you like the pretty picture!
Another way to be a helpful pinner is to post from a variety of sources. Don't spam the board with 5 pins from your site. Mix it up. Maybe 4 pins from other sources and one from your own site. People will be more likely to follow you if they think they will get value from your other boards… not just pins from your own site.
If you are interested, I have a few group boards under my Newlywed Survival Pinterest account. Blog Giveaway Group | Wedding Details | Desserts
Do you have a group board that needs more contributors? Leave a link to your board so we can all check it out!
Are you looking for a certain type of group board to contribute to or follow? Comment below and maybe we can help each other find one!
sources: Semiocast